Welcome to Content Builder
The MERLOT Content Builder is a free website development tool. It is accessible by logged-in members from the MERLOT home page by clicking the Add menu at the top of the page and selecting Create Material with Content Builder. You can also access it by your name (drop down) in the top right when you are logged in. If you are not yet a MERLOT member, join here.
All websites built with Content Builder are fully accessible, scalable to any screen size or device, and are hosted by MERLOT. The following guide will show you how to create, edit, and publish a website entirely for free!
This guide should help get you started with Content Builder. You can also check out our video tutorials here.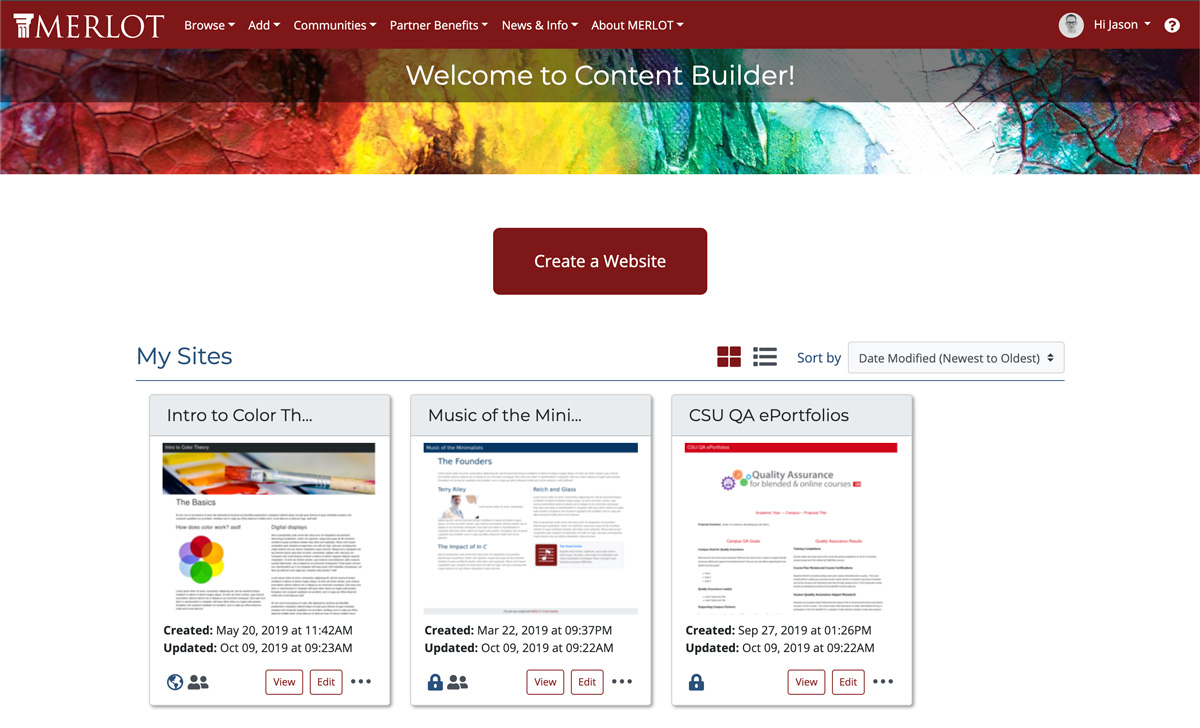 Site Structure, Terminology, and Accessibility
Creating a New Website
The Main Menu
Importing a Legacy Webpage or Website
Intro to the Design Center
Pages and Page Settings
Site Styles
Editing the Title and Navigation
Adding a Banner Image
Adding an Abstract
Adding a Site Footer
Adding, Moving, and Deleting a Content Box
Editing a Content Box (Links, Images, Videos, Tables)
Adding a MERLOT Material
Adding a Twitter or RSS Feed
The Recycle Bin
Previewing Your Site
Saving and Exiting the Design Center
Collaboration
Making Your Site Public
Sharing Your Site
Adding Your Site to MERLOT
Sending a Copy of Your Site to Another User
Adding Google Analytics to Your Site
Adding a Google Translator to Your Site
Deleting a Site
Content Builder FAQ's